6

min read
---
How do you celebrate a birthday star (a person whose birthday it is) who truly matters to you?
Ideally, you'd give them a giant hug and spend quality time together, maybe go for dinner or even throw them a birthday party! But sometimes we don't get to celebrate our loved ones in person, which leaves us looking for creative virtual birthday ideas.
Just a glance at your Facebook feed will remind you that humans send virtual "Happy Birthday" wishes all the time. Unfortunately, there are so many birthday wishes across social media that it all blends together and becomes noise. The many similar birthday messages eventually get reduced to a number:

But don't you think the most important people in our lives deserve special birthday wishes that won't get lost among a tide of social posts?
We do too. We have some great virtual birthday ideas that are sure to make your birthday star smile! They might even wind up shedding tears of joy.
5 Virtual Birthday Ideas + 3 to Grow On
3 to Grow On: Bonus Tips to Bring Virtual Birthday Ideas Into Reality
Ready to learn how to create a birthday montage? See our easy steps.
Idea #1: A Personal Email, Direct Message (DM), or Call
A little bit of effort goes a long way when it comes to writing or reciting a personal birthday message. Taking a few moments to reach out to someone special on their birthday communicates that they are a priority in your life. If you have trouble thinking of what to write or say, here are some ideas:
Compliment their best qualities.
Reminisce about a shared memory.
Tell them how they make you feel.
Celebrate where they are in life today and what they have accomplished so far.
Wish them a day/year full of their favorite things (and be specific).
What the ideas above really say is, "I appreciate and care for you, and I am truly grateful you were born."
We hesitated to add "call" to this list, but with the popularity of voice and video calling software, we think it counts as virtual. Whether you speak over a landline, smartphone, or Zoom (and even if you end up leaving a voicemail), your voice will be music to the ears of the birthday star.
Whether written or spoken, your message doesn't have to be lengthy, perfect, or thoroughly planned out. Just sincere.
Idea #2: A Custom-Made Birthday Playlist
A playlist on a platform like Spotify is the new mixtape, only way quicker and easier to create. And a birthday soundtrack from someone who really gets you is a super special gift. Add oldies but goodies, current hits, songs from a favorite decade, artist, etc. As long as you think it will bring a smile to the face of your birthday star, add it to their playlist!
Idea #3: An Original Birthday Poem
This one is for the creative writers out there. An original poem is artistic, special, one-of-a-kind, and it's one of those virtual birthday ideas that just keeps giving. A birthday poem has the potential to be used again for future celebrations. It can be read aloud as part of a toast or speech, performed as a sweet song, or built upon every year to create an epic (a long poem) for a future milestone birthday!
Idea #4: Tickets to a Future Event
It can be a bit disappointing when you don't get to celebrate with the birthday star in person on their special day. Being away from the people we care about is tough. But a raincheck can be a bright light at the end of the tunnel!
When do you plan to see the birthday star again? Look for something exciting to do in the area at the time you plan to reunite and grab tickets. Tickets to a movie premiere, festival, concert, or any activity you'll both enjoy are a great gift that focuses on future celebration.
Idea #5: A Birthday Montage (With a Celebrity Cameo)
We know, you're shocked to find a birthday montage on our list. 😉 But seriously, what other virtual birthday ideas can stand alone or incorporate any or all of the ideas above better than a birthday Tribute? The answer is none.
Deliver your message, recite your poem, introduce your playlist, and/or reveal your tickets for the birthday star, all within your birthday montage! A montage also works well as a collaborative group gift. Just invite others to add their videos—which reminds us of another special option…
Add a celebrity to your birthday montage! Our post on how you can use Cameo to get celebrity birthday wishes in your video shows you just how easy it is.
---
Bonus Tips to Grow On—Bring Virtual Birthday Ideas Into Reality
Tip 1: Send an LCD Video Card Featuring Your Birthday Montage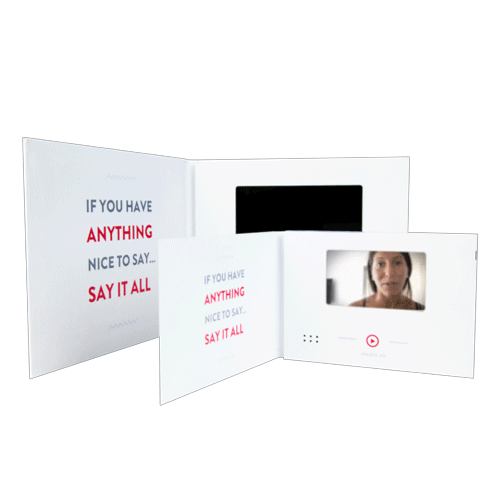 Take your birthday montage to the next level by delivering it in a 4″ or 7″ LCD video card. The creation is virtual, but the result is a lovely, tangible surprise. The birthday star can display their video card at home and take it with them anywhere.
Tip 2: Deliver Your Birthday Montage on a Bamboo USB Drive
Turn your Tribute video into a personal keepsake your birthday star can plug and play with a sustainably made bamboo USB.
Tip 3: Complement Your Birthday Montage With Flowers or Edible Treats
Add a classic touch to your gift by sending flowers and/or sweets to your birthday star from 1-800-Flowers.com and get a FREE personalized birthday Tribute! Check out our podcast interview with 1-800-Flowers Founder Jim McCann.
How to Create a Birthday Montage With Tribute
Tribute is the most user-friendly video maker and the king of all virtual birthday ideas. In a few simple steps, you can collaborate with others, collect their videos, and easily bring it all together in a montage that is sure to make your birthday star smile.
Invite friends.

We send the invitations with all the information your friends and family need to participate.

Collect videos.

We provide the prompt for your participants to make a video and upload it.

Compile the video.

We make it easy for you to drag and drop the collected videos into any order you like and then share the final Tribute video.

Get premium service (optional).

Let one of our concierge editors manage the project and compile your final Tribute video.