7

min read
Moving schools is a milestone, whether swapping kindergarten for the big school or out of college and into the workforce.
Graduation is a milestone, every time it happens. We commemorate milestones to help with change and transition; new students, new teachers, new subjects and new challenges.
When is Graduation Day 2022
Pinpointing a single day is tough when schools and universities around the world have such varying seasons.
Americans tend to have May and June graduation season and June 15-30th, 2022 are some of the most common graduation dates.
Summer is either its own term or off altogether, and the first day of summer 2022 is June 21st, 2022, so school is either done or soon-to-be done in many places by then.
Start your grad's gift today with Tribute's easy-to-use group video maker.
Too late for Graduation this year? Be prepared for the next milestone! Set a Reminder with Tribute and we'll remind you a couple weeks in advance to start your next group video gift…and we'll include a 20% off coupon with the reminder!
Ready to give the most meaningful gift on Earth?

Most of us have learned it's the little moments that truly mean the most, and that education is incredibly important to becoming a secure and happy human.
Gather up your grad's favorite people to record a Tribute video today – here are a few ideas of who can make this graduation gift the most meaningful gift on earth:
Teachers, coaches, advisors, fellow students, siblings, and family are all great candidates to contribute.
Aunts and uncles, neighbors, and even pets can participate in a video montage to ensure a happy graduation day for the celebrant.
Mentors can leave inspiration and even coworkers and bosses can give a boost to the working student.
Facing growing pains and challenges in our careers or education experiences is normal, but it's much easier to move through these bumps in the road when you know everyone's got your back.
These transitional times are tough on students, even when they're high performing, and showing encouragement is a great way to keep them stocked with confidence.
Nothing is more encouraging than a personalized message to cheer them on no matter what stage in the game your grad is in. To get inspired about what to include in your Tribute message, check out this video for 4 Steps to Create the Best Video Congrats Gift here.
Advice for Graduates
Individualism is important for students to cultivate while they develop their skills, but respecting other people's individualism is a lesson to go far in life.
Coaching a kid or teen on working on those skills is just as important as algebra or gym class. Working with others as a team or as a leader is much easier with this in mind. 
Here are some prompts to use in your group video gift that can crowd-source the wisdom for your grad! Just ask your participants to all answer the same prompt:
I love how you see the ______ in others.
Something that makes you unique to me is ________.
If I could tell my younger self something when I was at this point, I'd have said _______.
You'll be successful in this next stage because ____________.
We do the work, you get the credit
Premium upgrade options to make your experience as seamless and meaningful as possible.
Gifts for Graduates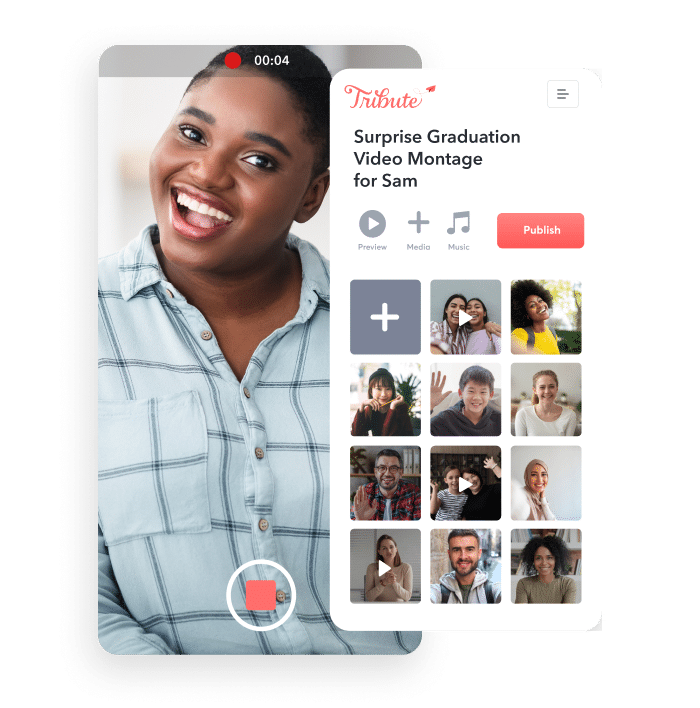 Stopping to take it all in is easier said than done. When events are rushing past and happening live, our group video maker makes an excellent time capsule. What better way to nail the era and the mood than a video montage! 
With a tribute, moving on doesn't have to mean never looking back.
Your grad will have hundreds or even potentially thousands of classmates over the years. Why not remember those faces to keep the good memories (and lessons) fresh.
Having an actual video with these kids, these jokes, these things to reminisce over strengthen bonds over time – check out this video to see how sometimes, a long-distance video gift can even beat an in-person hug.
Don't let these moments pass – Set a Reminder to have a Tribute video to mark the passing of the next few years of school, and get 20% off each time.
Ready to give the most meaningful gift on Earth?

Ever want to forget another Teacher Appreciation Week or other special occasions? Set a Reminder with Tribute and we'll remind you a couple weeks in advance to start your group video gift…and include a 20% off coupon with the reminder!

Here's to wishing you – and all the students out there – best wishes for Graduation 2022 from the Tribute team!