7

min read
Teacher Appreciation Week 2022 is here — from May 2nd to May 6th. Want a more personalized and memorable teacher appreciation gift than coffee and flowers? (OK…maybe you shouldn't leave out the coffee…)
When is Teacher Appreciation Week 2022?
If your school celebrates the whole week, May 2nd – May 6th, 2022 is designated as this year's five days of teacher recognition.
Start your teacher thank you gift today with Tribute's easy-to-use group video maker. Too late for Teacher Appreciation Week this year? Go for an end-of-year appreciation video gift or graduation video gift instead!
When is Teacher Appreciation Day 2022?
Tuesday, May 3rd, 2022 is Teacher Appreciation Day. Tribute group videos make efficient gifts for special holidays like this one – plus, you can get it ready faster than you can grab some cupcakes in most places.
Gather your forces and drop some funny stories, words of inspiration, your best dance moves, or cartoon impression to make that special educator feel the love. Too late this year? Be prepared for Teacher Appreciation Week 2023!
Ready to give the most meaningful gift on earth?

TEACHERS ARE HEROES. FULL STOP.
Teachers have a lifelong impact on our children.

Not only do they teach ABC's and Advanced Algebra… they build self-esteem and confidence – skills that are associated with increased motivation and lifelong learning!
Compared to any other aspect of schooling, teachers have the greatest impact on student achievement. A well-trained teacher is likely to send more students to college and can boost a class's lifetime income by $250,000.
Doesn't that deserve some extra special thank-you's? Here's how Tribute makes it as easy as 1-2-3…
A gift they can enjoy again and again can remind our hard-working, heart-led educators why they do what they do. Consumable gifts are gone when they're gone. Consider a more unique, greener and completely individualized way to show your appreciation – with video!
Well-wishes are a simple way to express love, and kind words are a regular part of healthy, lasting relationships. You may be good at it on the day-to-day, but formalizing your affectionate thoughts for special occasions can be tricky! Speeches can feel awkward, or they take up core learning time. And it's not always a good opportunity to spring a "moment" on a teacher who might be in the middle of a critical lesson.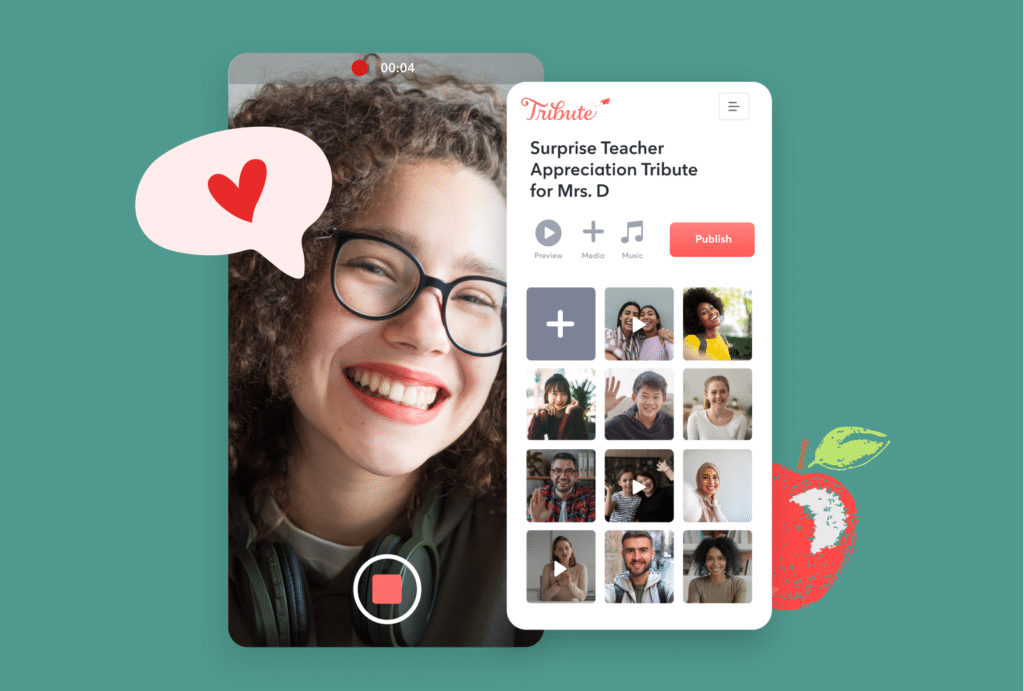 The solution: a group video gift! Gather the class list and invite everyone to submit a Tribute video individually, on their own schedules. You're not limited to students' families – you can invite anyone who wants to share a bit about the teacher of honor. Be your own producer and let us bring your vision to life: with vignettes from parents, students, helpers and others who are ready to share their appreciation and memories. You can even include a photo montage from field trips, class projects and holiday events!
This is a sure way to keep the story of their impact alive and build on your teacher's legacy. A digital video can be saved to the cloud, moved from device to device and be shared throughout the generations. Video gifts allow for the full range of personal expression – no one's quirks and endearing personality will be lost or forgotten. Everyone gets to have their say, in their own way. The DIYer will love Tribute's fast and simple, low-tech (grandparent friendly) self-service website. While the "give me all the extras" shopper will swoon at our concierge service and premium video cards!
We do the work, you get the credit.
Premium upgrade options to make your experience as seamless and meaningful as possible.
Ready to give the most meaningful gift on earth?

Never want to forget another Teacher Appreciation Week or other special occasions?

Here's to wishing you – and all the teachers out there – a very happy Teacher's Appreciation Day, from the Tribute team!